Frequently Asked Questions
---
The Ameritage® Humidity Control System offers guitar owners a unique way to protect and preserve their instruments by monitoring and regulating the humidity level with their case.Here is how it works . . .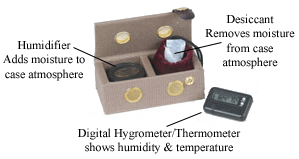 Case Atmosphere

What to do

HUMID

Above 55% humidity

Insert desiccant pouch in compartment.
Remove humidifier or do not recharge.

DRY

Below 45%

Remove desiccant pouch from compartment.
Recharge humidifier, return to compartment.
How do I know which Ameritage® carrying case is right for my guitar?
Simply fill in an measuring form on the contact page letting us know your guitar model and its dimensions, and we will promptly email you and let you know which case would provide a perfect home for your instrument.
Can I have an Ameritage® case custom built to fit my instrument?
Yes, through the Ameritage® Custom Shop, you can have a case perfectly tailored to fit your guitar, using your design preferences.
Can I have an Ameritage® case made with my choice of colors?
Yes, the standard line of Ameritage® cases come with a classic, attractive combination of taupe colored Cordura¨ exterior and a rich, burgundy colored velour interior. However, through the Ameritage® Custom Shop, you can select an alternative color combination if you choose.
Is humidity control important for a solid-body, electric guitar?
Yes, humidity control is an important issue for any wooden instrument – even a solid body. When a solid wood guitar dries out, the wood can shrink across the grain. The fingerboard can also shrink, causing the fret ends to poke out from the sides. The fact is, that the vast majority of costly guitar repairs are caused by a lack of humidity control. The Ameritage® Humidity Control System was designed for this very reason. It allows you to easily manage the humidity level within your case, helping you to preserve and protect your investment.
What is the ideal humidity level for my guitar case?
50% relative humidity + or - 5%.
What is the ideal temperature for my guitar case?
68°F + or - 5°
After receiving my Ameritage® case, will I be able to immediately put my instrument into the case?
Due to normal manufacturing processes carrying cases typically have higher moisture content. However, at Ameritage we cure each of our cases so that the moisture level is reduced to the proper humidity level range.
What should I do when I need to travel with my guitar?
The Ameritage® line of carrying cases are designed to protect and preserve instruments for generations. However, guitar owners must still take certain precautions when traveling with their instruments.
When traveling by car, do not store your guitar in the trunk. The trunk of a vehicle is subjected to more dramatic climatic changes that lead to checking or swelling. Try not to put your guitar in a place where you yourself would be uncomfortable. Therefore, the car interior is a much better choice than the trunk.
If you travel by air, do not check your guitar as baggage if you can avoid it. Temperature and air pressure changes in the cargo hold could ruin a guitar. Check if your airline will allow you to bring it on board and have a flight attendant stow it for you. Some musicians bring a flat electric guitar case in a garment bag for the attendant to hang in the coat storage area. Though we do not recommend Ameritage be used as a "Flight" case, we have learned that individuals are successfully traveling with our case on a routine basis.
If moving your guitar from cold to warm surroundings or vice versa, leave it in the case and allow it to acclimate as long as possible to the new environment.
What should I do with my guitar if I need to store it for an extended period of time?
If you plan on storing your guitar for several months or longer, you should put it carefully inside its case with the strings loosened and place it in a location where it is dry and temperate, such as a closet. Use common sense and do not keep your guitar in a hot attic, a damp basement, or leave in the trunk of your car.
What is the Ameritage Warranty Statement for end user purchase?
All Ameritage® merchandise is completely guaranteed. If you are not completely delighted with your purchase, please return it for a credit or refund, (not including return freight), within thirty days of receipt. Additionally Ameritage® cases are backed by a 5 year warranty against defects in materials and workmanship while in possession of the original owner. To qualify for warranty, you can either complete the enclosed warranty registration card or online at www.ameritage.com within 10 days of receiving your case.
Ameritage does not warranty against normal wear and tear such as soiling and scuffing of fabrics, tarnishing of hardware and wearing of stitching. If a return or repair is necessary, customer must notify your music retailer or if bought directly from Ameritage® call 1-866-669-8932 and obtain a Return Authorization number prior to returning the carrying case(s). Ameritage® will correct, replace and return, discount or credit the customer whichever it deems appropriate or is mutually agreed upon. Damage or defect due to shipping carrier will be resolved through customer claim and reimbursement from carrier. The warranty extends only to the carrying case and return shipping charges and not to contents.